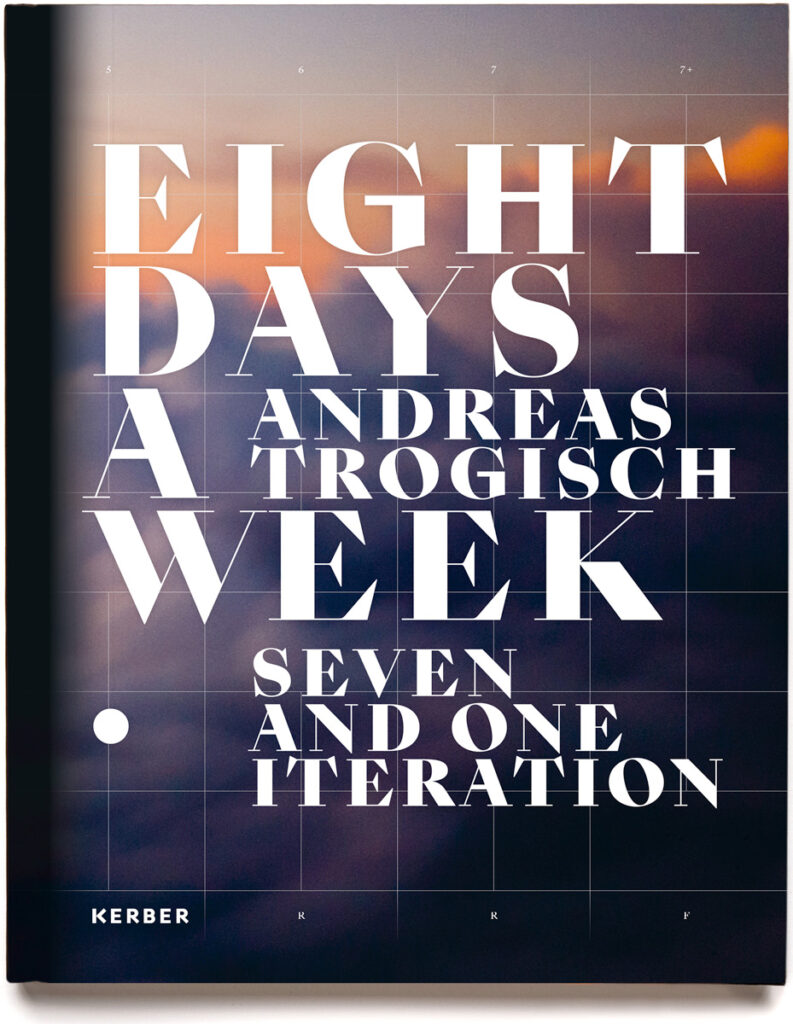 Mehr als zwei Jahre (und acht Tage) hat die Arbeit am neuen Buch «Eight Days A Week» gedauert, jetzt wird es endlich fertig: Am 26. Oktober soll es die Druckerei verlassen, am 4. November wird es ins Licht der Öffentlichkeit gehoben zur Eröffnung der gleichnamigen Ausstellung in der Galerie Franzkowiak. Dort wird es viele der Bilder aus dem Buch zu sehen geben, einige davon auch in ungewöhnlichen Formen – zum Beispiel gestrickt.
Das Projekt «Eight Days A Week» beinhaltet 77 Bilder, die zwischen 2012 und 2021 aufgenommen wurden und die alle als Familienähnlichkeit die gleiche Unschärfe besitzen, weil alle sie mit der gleichen Lochkamera aufgenommen wurden. Das Thema, das ‹Große Ganze› ist, in aller Bescheidenheit, die Erschaffung der Welt, und zwar als Bildgeschichte entlang der ersten Kapitel der Bibel; in sieben Anläufen (Iterationen), da ich nämlich annehme, dass die Schöpfung nicht auf Anhieb perfekt war (sie ist es ja offensichtlich immer noch nicht).
Das Buch kann man in der Ausstellung ab 4. November kaufen, über meinen Webshop oder über den Buchhandel (dort dann allerdings erst nach Auslieferung durch den Verlag).
---
Buch:
Eight Days A Week. Seven And One Iteration.
148 Seiten, 77 Bilder
24 × 30 cm, Hardcover, Japanische Klebebindung,
Kerber Verlag, Berlin 2021
ISBN 978-3-7356-0824-6
Ausstellung:
Eight Days A Week
Galerie Franzkowiak
Vernissage und Buchpremiere
am 4. November 2021 um 18 Uhr
Ausstellung vom 15. 11. 2021 bis 16. Januar 2022
Do—Sa 14—18 Uhr
Friedrichstraße 76—78 / 10117 Berlin
Friedrichstadt-Passage / Quartier 207 / Untergeschoss
Eingang: Jägerstrasse 61 / Lift 2. UG
U6 Französische Straße, U5 Unter den Linden sowie U2 Stadtmitte
The work on the new book «Eight Days A Week» has taken more than two years (and eight days), and now it is finally ready: on October 26 it is to leave the print shop, and on November 4 it will be lifted into the light of day for the opening of the exhibition of the same name at the Franzkowiak Gallery. Many of the pictures from the book will be on display there, some of them in unusual forms – knitted, for example.
The project «Eight Days A Week» includes 77 images taken between 2012 and 2021, all of which have the same blur as a family resemblance, because all of them were taken with the same pinhole camera. The theme, the ‹big picture› is, in all modesty, the creation of the world, as a pictorial story along the first chapters of the Bible; in seven attempts (iterations), because I assume that the creation was not perfect right away (it obviously still is not).
The book can be bought at the exhibition from November 4, via my webshop or via bookstores (there, however, only after delivery by the publisher).
Book:
Eight Days A Week. Seven And One Iteration.
148 pages, 77 pictures
24 × 30 cm, hardcover, japanische binding,
Kerber Verlag, Berlin 2021
ISBN 978-3-7356-0824-6
Exhibition:
Eight Days A Week
Galerie Franzkowiak
Vernissage and book premiere
November 4 2021 at 6 pm
Exhibition from 15. November 2021 to 16. January 2022
Thu—Sat 2–6 pm
Friedrichstraße 76—78 / 10117 Berlin
Friedrichstadt-Passage / Quartier 207 / Underground passage
Entrance: Jägerstrasse 61 / lift 2. UG
U6 Französische Straße, U5 Unter den Linden and U2 Stadtmitte